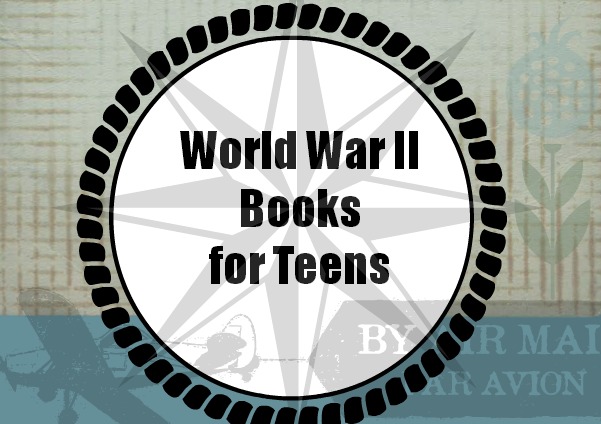 Here are some of my favorite WWII books for Young Adults. The majority are pretty heavy reads, but a couple are on the lighter side, showing alternate perspectives of the times. (And, of course, since it's my blog, I included my own book in the fiction section!)
 Non Fiction
Women Heroes of World War II: 26 Stories of Espionage, Sabotage, Resistance, and Rescue (Women of Action)
Twenty-six engaging and suspense-filled stories unfold from across Germany, Poland, the Netherlands, France, Belgium, Denmark, Great Britain, and the United States, providing an inspiring reminder of women and girls' refusal to sit on the sidelines around the world and throughout history.
An overview of World War II and summaries of each country's entrance and involvement in the war provide a framework for better understanding each woman's unique circumstances, and resources for further learning follow each profile. Women Heroes of World War II is an invaluable addition to any student's or history buff's bookshelf.
Letters Home
This World War II memoir recounts the life of Floyd Hughes Davis as he trains as a member of a B-17 aircraft, his boming missions over Germany, and explores the mysterious circumstances around the loss of his entire crew.
Bomb: The Race to Build–and Steal–the World's Most Dangerous Weapon (Newbery Honor Book)
In December of 1938, a chemist in a German laboratory made a shocking discovery: When placed next to radioactive material, a Uranium atom split in two. That simple discovery launched a scientific race that spanned 3 continents. In Great Britain and the United States, Soviet spies worked their way into the scientific community; in Norway, a commando force slipped behind enemy lines to attack German heavy-water manufacturing; and deep in the desert, one brilliant group of scientists was hidden away at a remote site at Los Alamos. This is the story of the plotting, the risk-taking, the deceit, and genius that created the world's most formidable weapon. This is the story of the atomic bomb.
The Hiding Place
Corrie ten Boom was a woman admired the world over for her courage, her forgiveness, and her memorable faith. In World War II, she and her family risked their lives to help Jews escape the Nazis, and their reward was a trip to Hitler's concentration camps. But she survived and was released–as a result of a clerical error–and now shares the story of how faith triumphs over evil.
Anne Frank: The Diary of a Young Girl
Anne Frank and her family, fleeing the horrors of Nazi occupation forces, hid in the back of an Amsterdam office building for two years. This is Anne's record of that time. She was thirteen when the family went into the "Secret Annex," and in these pages, she grows to be a young woman and proves to be an insightful observer of human nature as well. A timeless story discovered by each new generation, The Diary of a Young Girl stands without peer. For young readers and adults, it continues to bring to life this young woman, who for a time survived the worst horrors the modern world had seen — and who remained triumphantly and heartbreakingly human throughout her ordeal.
Summer at Tiffany
Summer at Tiffany by Marjorie Hart is the true story of two best friends experiencing the time of their lives in New York City during the summer of 1945. The Cleveland Plain Dealer raves, "Hart writes about that stylish summer with verve, recollecting with a touching purity a magical summer in Manhattan, seen through the eyes of two 21-year-olds, just as the end of World War II approached."
Hilke's Diary: Germany, July 1940-August 1945
Hilke's Diary is a battered chintz-covered little book with a flowery pattern, its lock (once so important to its young owner) long-since broken. It has survived an incredible near-70 years, and was the inseparable companion of a little German girl throughout World War II. Hilke was evacuated from Hamburg and separated from her family; she was placed in 1940 with her uncle and aunt in Meisnheim, then later in 1942 she was sent to an estate as a companion for a little girl. Her siblings were also sent away, split up in the desperation to place them somewhere safe as bombing on Hamburg intensified with the firestorm in 1943. In 1944, Hilke was sent to a boarding school on Lake Constance, miles from home. When the war ended this school closed and the pupils were left on the streets with just a handful of money, no papers, and no responsible adult to help them get home. Hilke then embarked on a long journey across Germany to find her family, unsure whether they had even survived the bombing. Her childhood diary was her one confidant along her arduous journey home. This title presents the important record of the experience of war through the eyes of a little German girl.
Fiction
Flygirl
All Ida Mae Jones wants to do is fly. Her daddy was a pilot, and years after his death she feels closest to him when she's in the air. But as a young black woman in 1940s Louisiana, she knows the sky is off limits to her, until America enters World War II, and the Army forms the WASP Women Airforce Service Pilots. Ida has a chance to fulfill her dream if she's willing to use her light skin to pass as a white girl. She wants to fly more than anything, but Ida soon learns that denying one's self and family is a heavy burden, and ultimately it's not what you do but who you are that's most important.
The Book Thief
It is 1939. Nazi Germany. The country is holding its breath. Death has never been busier, and will become busier still.
Liesel Meminger is a foster girl living outside of Munich, who scratches out a meager existence for herself by stealing when she encounters something she can't resist–books. With the help of her accordion-playing foster father, she learns to read and shares her stolen books with her neighbors during bombing raids as well as with the Jewish man hidden in her basement.
Oct. 11th, 1943-A British spy plane crashes in Nazi-occupied France. Its pilot and passenger are best friends. One of the girls has a chance at survival. The other has lost the game before it's barely begun.
When "Verity" is arrested by the Gestapo, she's sure she doesn't stand a chance. As a secret agent captured in enemy territory, she's living a spy's worst nightmare. Her Nazi interrogators give her a simple choice: reveal her mission or face a grisly execution.
As she intricately weaves her confession, Verity uncovers her past, how she became friends with the pilot Maddie, and why she left Maddie in the wrecked fuselage of their plane. On each new scrap of paper, Verity battles for her life, confronting her views on courage, failure and her desperate hope to make it home. But will trading her secrets be enough to save her from the enemy?
Cinderella's Dress (Entangled Teen)
 Set during 1944-1947
Being a teen-ager during World War II is tough. Finding out you're the next keeper of the real Cinderella's dress is even tougher.
Kate simply wants to create window displays at the department store where she's working, trying to help out with the war effort. But when long-lost relatives from Poland arrive with a steamer trunk they claim holds the Cinderella's dress, life gets complicated.
Now, with a father missing in action, her new sweetheart, shipped off to boot camp, and her great aunt losing her wits, Kate has to unravel the mystery before it's too late.
After all, the descendants of the wicked stepsisters will stop at nothing to get what they think they deserve.