The new Disney Cinderella Movie comes out March 13, 2015. I've been collecting links in separate blog posts and Pinterest pins and Tweets, and thought it was time to put them all in one spot where I can add to them as the promotions continue. If you know of any others, please add them to the comments section.
Here is the latest trailer. We are given a good look at what the story line will be (in addition to the classic plot.)

The Clothes
Costume designer Sandy Powell took her cues from the 1940's or 1950's, depending on which article you read. Given that plain, war-time fashions didn't change until Dior's New Look in 1947, and the original Disney Cinderella came out in 1950, I'd say 1950's might be correct.
The Rag Dress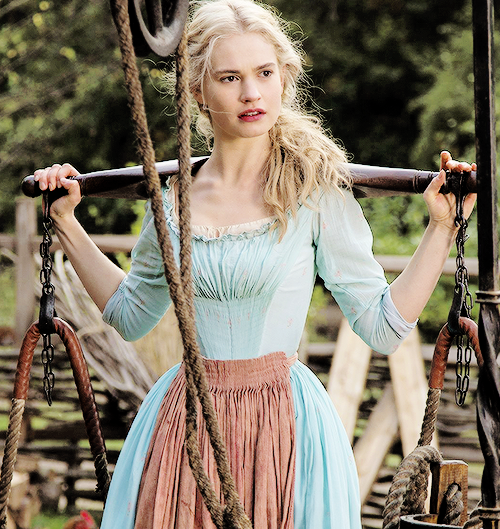 "I didn't want her in rags, as she is often portrayed in the storybooks. What I gave her instead is a dress that starts out pretty and ends up looking faded, tired, and worn out." –Sandy Powell
The Pink Dress
I haven't found any information about Cinderella's mother's dress, (the pink one that the step family destroys) but this video gives us a look at the first ball gown and at the two different looks of the Fairy Godmother. She's a fun one.
The Ball Gown
"When I first put it on, I felt both empowered and scared. How could I live up to this? Then I realized I could use that fear to show me how Cinderella would feel at that moment." – Lily James
Quick Facts:
Layers: 12 (plus a corset and petticoat)
Fabric: crepeline silk, printed polyester, and iridescent nylon in different shades of blue and turquoise and lavender
Amount of fabric: 270 yards
Number of crystals: 10,000
Number of dresses made: 9
Number of tailors: 18
Number of hours per dress: 500
Here is an update link talking about the dress and the controversy over Lily James' waist: Daily Mail: Yes, Lily James, You Shall go to the Ball.
The Wedding Dress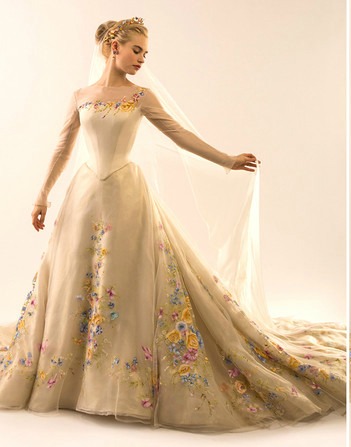 "Cinderella wins the Prince's heart through her goodness, so I wanted to show this through her clothes. I wanted her to stay modest and pure even though she was going to be a part of royalty." –Sandy Powell
Quick Facts:
Hours to make: more than 550
Number of tailors: 16
Flowers: hand-painted
Love Story Featurette Interviews with Lily James and Richard Madden.

The Shoes
Quick Facts:
Number made: eight pairs
Material: Swarovski crystal
Size of heel: 5 inch
Interesting fact: Cinderella didn't wear any of them. She wore leather shoes, which the special effects department turned into crystal.
The Stepsisters and Stepmother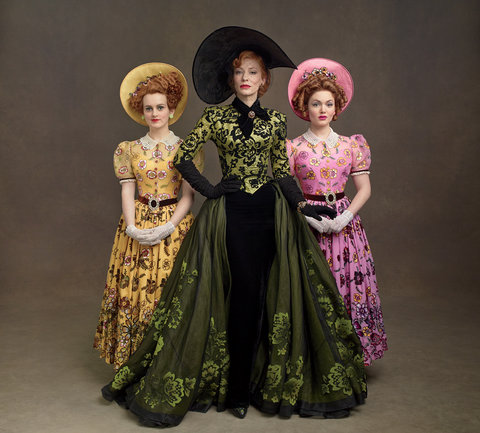 "They are meant to be totally ridiculous on the outside—a bit too much and overdone—and ugly on the inside," – Sandy Powell
Quick Facts:
Stepmother: Cate Blanchett
Anastasia: Holliday Grainger
Drisella: Sophie McShera
"The Legacy" trailer with interviews:

The Carriage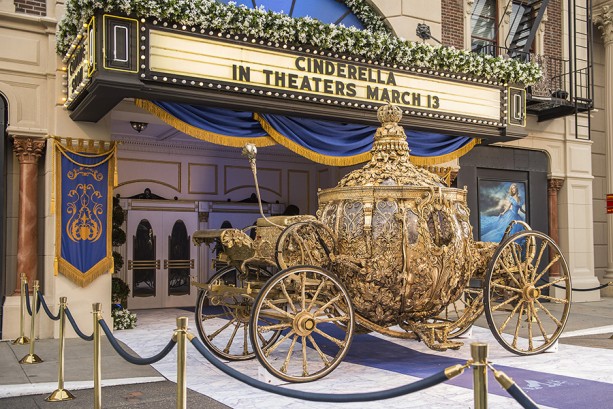 The carriage is on display at Disney Hollywood Studios until April 11.
Quick Facts:
Designer: Dante Ferretti
Size: 10 feet tall and 17 feet long
Weight: almost two tons
Decorated with: gold leaf
Sources:
Vanity Fair First Look: The Making of Cinderella's Wedding Gown
What Would Cinderella Wear? Costuming Lily James and Cate Blanchett in Kenneth Branagh's Forthcoming Film
LA Times: Live-action 'Cinderella's' costumes get a glammed-up makeover
Golden Carriage from 'Cinderella' Arrives at Disney's Hollywood Studios