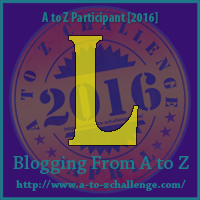 This year for the Blogging from A to Z Challenge, I'm writing about the 1800s in celebration of Nellie Bly and Elizabeth Bisland's race around the world in 1889, the subject of my new novel based on this adventure: Liz and Nellie.
**
Today I'm excited to introduce guest blogger Rosemary J Brown, fellow Nellie Bly enthusiast. She not only enjoyed reading about Nellie Bly's race around the world, but she put boots to her devotion and actually traveled Nellie's route in commemoration of the 125th anniversary of the race. If you've been enjoying these A to Z posts about Nellie Bly and Elizabeth Bisland, then visiting Rosemary's website Nellie Bly in the Sky is a must. You will not be disappointed.
And here's Rosemary:
NELLIE BLY: TOP OF THE LISTS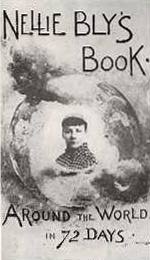 Nellie Bly is 'back on the front page' as a chart-topper in the historical, adventurous, convention-busting, inspiring and feminist leagues. Her courage, determination and belief that 'nothing is impossible if one applies a certain amount of energy in the right direction,' makes her a dynamic and enduring role model in today's world.
Nellie takes her place in the top 10 list of female adventurers of all time as defined by LISTVERSE. She also made The Stylist's list of history's greatest female adventurers.
Just in time for International Women's Day 2016, Nellie was named one of the Top 10 inspiring female adventurers by The Guardian and The Observer newspapers in the United Kingdom. She also inspired a story on today's female adventurers in the UK in this recent article.  Of course I was a little biased when I wrote these two newspaper features, but you'll see from this post that there are many more who want to commemorate Nellie's pioneering spirit and all that she accomplished as a woman in Victorian times. Nellie never took no for an answer.
The Guardian and The Observer newspapers also placed Nellie among the 10 best feminists.
Her ground-breaking work as a journalist and pioneer of investigative journalism is recognised by The Stylist in its list of female journalists who changed the world and Nellie is named one of the 10 most courageous undercover journalists ever (including men) by Career News Insider.
Nellie Bly is honored in the National Women's Hall of Fame, listed under her true name Elizabeth Jane Cochran.
In 10 Books About Innovative Women You Should Know More About, Kathleen Culliton names Nellie Bly: Daredevil. Reporter. Feministby Brooke Kroeger.  This is what she says on online site Bustle: Journalist Nellie Bly faked insanity to get committed in an asylum. She reported on its atrocities as she experienced them. When that was done, she circled the globe."
Online worldwide news site Buzzfeed named Nellie Bly as one of  theTop 12 Historical Women Who Didn't Give a 'you know what'. *Content warning: Language*
She was named among the top 7 of inspiring 'convention-breaking' womenby Mother Nature Network. *Content warning: Language*