For the A to Z blogging challenge I've decided to blog about the 1940′s. And in the spirit of the 1940′s, at the end of the month, I'll be giving away an ebook copy of one of my favorite books, Summer at Tiffany, to one of my newsletter subscribers (sign-up on the sidebar if you are so inclined.) It's a light-hearted memoir of two college girls let loose in New York City for a summer. What a hoot.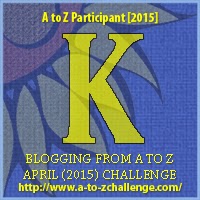 Kiss me Kate is a Broadway musical production based off of Shakespeare's The Taming of the Shrew. It's a play within a play, as the storyline follows a cast putting on a production of Shakespeare's play.
It premiered in late 1948 and won several Tony awards in 1949, including best musical. And just announced last month:
On March 25, 2015 it was announced that the 1949 original cast recording will be inducted into the Library of Congress's National Recording Registry for the album's "cultural, artistic and/or historical significance to American society and the nation's audio legacy".

The music and lyrics were written by Cole Porter and their popularity gave a boost to his career.
Here is the trailer for the 1953 movie version of the musical: