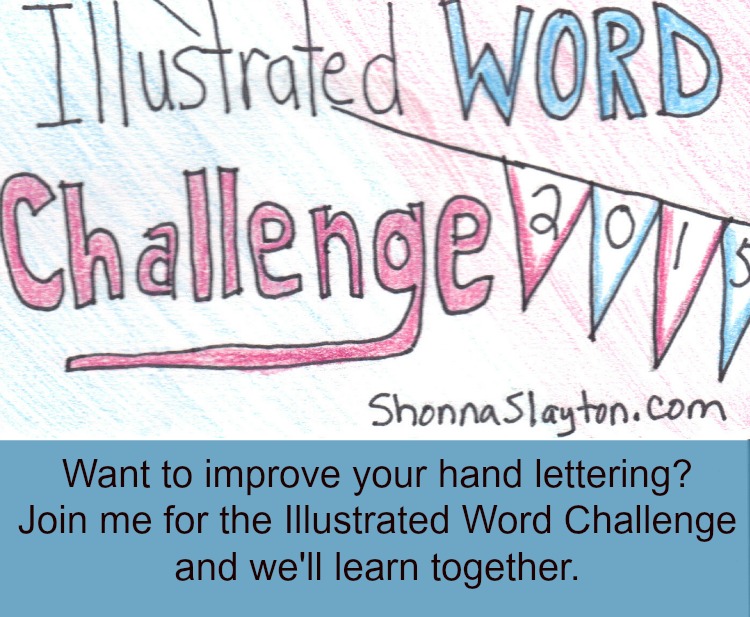 Welcome to the first annual Illustrated Word Index Card a Day Challenge. Riffing off of several ideas/challenges I've seen online, I'm starting a new one. Last year I participated in the Index Card a Day (ICAD) started by Daisy Yellow Art. It's a creative challenge to:
Starting June 1, Create something on a 3×5″ index card every day for 61 days. On the back of each card, add a number to keep track of your progress. ICAD #1, #2, etc. Whatever day you start, it is your own official ICAD #1. Motto: You do not need to catch up, just start.
I challenged myself to learn how to doodle. Doodling daily, I started strong, but petered out a few weeks into the challenge. Possibly because I'm lazy. Possibly because there was no sign-up/accountability.
During this doodle obsession I came across some pins on Pinterest called Illustrated Faith, where folks were doodling inside their Bibles. I mean, right over the words and everything! It was beautiful. But…over the words…what if I make an ugly mess–can't rip out the page!
Follow Shonna Slayton–YA Author's board Design: Doodling on Pinterest.
So before I start drawing in my Bible I need practice. I need accountability. I need friends to do this with!
Video on Hand Lettering for beginners:
This could be so much fun that I figure my bookish friends will want to jump in. Since not all of you want to illustrate Bible verses, I thought I would open the the challenge to words in general. You can illustrate simple words like love, summer, or joy. Or pull your favorite book quotes and add some flourishes. If you've got something to show, leave a comment with a link so we can see it!