This year for the Blogging from A to Z Challenge, I'm writing about the 1800s in celebration of Nellie Bly and Elizabeth Bisland's race around the world in 1889, the subject of my new novel based on this adventure: Liz and Nellie.
***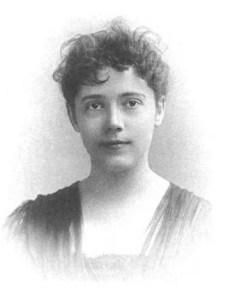 The popular hairstyle during Nellie Bly and Elizabeth Bisland's days were up-dos with bangs. To create the look you needed hairpins. Here is Elizabeth's take on this necessary accessory and how to pack them:
Happily I took the precaution of carrying plenty of pins and hair-pins. I had had some previous experience with their vicious ways, and well knew that in critical moments in foreign parts they would get up playful little games of hide-and-seek that would tend to undermine my temper, and the only sure preventive was to have geologic layers of them all through the trunk, so that a shaft might be hastily sunk through one's belongings at any moment with a serene certainty of striking rich deposits of both necessities of female existence. – Elizabeth Bisland, Elizabeth Bisland in Seven Stages
Now, when I see the word hairpin, I think Bobby pin (Kirby grip in UK). However, this style of pin didn't become popular until 1899 if you believe the uncited Wikipedia source. So what kind of hairpin did Elizabeth bury in layers in her luggage?
Seems like they were the larger hair clip, or two-pronged comb. Here is a pinterest board with an assortment: https://www.pinterest.com/bourayb234/antique-hair-pins/
Elizabeth's guide in Colombo had hair that when unwound, fell to his waist. She gave him a hairpin. This was his response:
He has never seen a hair-pin, and the gift of one of mine childishly delights and amuses him. He thrusts it in and out of his hair, and finally fastens it upon a string of queer charms and fetiches worn in his bosom.