For the A to Z blogging challenge I've decided to blog about the 1940′s. And in the spirit of the 1940′s, at the end of the month, I'll be giving away an ebook copy of one of my favorite books, Summer at Tiffany, to one of my newsletter subscribers (sign-up on the sidebar if you are so inclined.) It's a light-hearted memoir of two college girls let loose in New York City for a summer. What a hoot.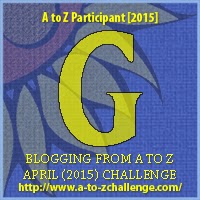 Gene Moore was a prominent window designer, reaching his stride during the 1940's. He'd eventually land at Tiffany in New York where he gained his most fame, but for the A to Z Challenge, I'm focusing on the 1940's when he was working at Delman's shoe store and then at Bonwit's.

His dream was to be a painter, but he says he would never be great. After working for a time for the Bois Smith Display Company, which made props, his work caught the eye of a display director who hired him as his assistant.
"It was fun. It required all my imagination and then more—I had to look harder all around me, inside me, at everything. It required a kind of luck, the luck in colors and shapes and the way zany ideas suddenly make perfect sense….Display, I found, is a lot more fun than painting and a lot less lonely." P. 16 My Time at Tiffany's.
Soon, he had charge of his own windows, and he began to support other artist's works. He commissioned more than 800 artists during his long career.
"I've always paid the artists, of course, and some of them really needed the money. Some of them, too, have gone on to become quite famous." P. 28 My Time at Tiffany's.

During the war years, he was rejected for service due to poor eyesight (saw everything in soft focus), but contributed to the war effort through his window displays by including bond drives and Red Cross appeals.
You can learn more about Gene Moore, window display artist, in his highly entertaining book, My Time at Tiffany's

.