You all know I get excited when I learn about new Cinderella inspired books, and there is another one coming out! I love so much about this novella already, and am eager to read it. From the title: A Wish Made of Glass!!!! [exclamation points are mine because it's such a great title] to the storyline about the stepsister, I cannot wait.
The author, Ashlee Willis, and I are swapping websites today. I interviewed her and she interviewed me on her blog (where I talk a little bit about the making of Cinderella's Shoes for the first time!) Check it out here: Finding the True Fairy Tale
About the book: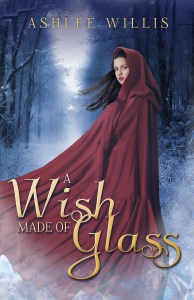 Deep in a forest glade, the fey folk dance with Isidore, a young human child. Their kinship is the very fabric of her childhood. When her mother dies and her world darkens with sorrow, Isidore finds her belief in the fey folk wavering.
The love of her new step-sister, Blessing, proves an unexpected gift in her time of need. Yet even as their friendship blooms, Isidore begins to see that Blessing is everything she herself has always wanted to be, but is not. Jealousy grips Isidore as she watches this beautiful new sister steal away all she holds dear.
Driven to desperation, Isidore turns to the fey folk once more. She has only one wish to claim from them, one chance to make things right. But she must tread carefully. For wishes, like hearts, are easily broken. And obtaining the one thing she desires could mean destroying the one thing she truly needs.
Author Interview:
What was the story spark that captured your attention and led to this book?
There actually was no spark in the beginning. Cinderella has never been one of my favorite fairy tales, to tell you the truth. But I've always loved reading books told from the "other side" of the story – the darker side, I guess you could say. Not because I enjoy that darkness, but because I'm intrigued to see how characters we've stereotyped actually became who they are. There's always a reason. So I thought it might be interesting to tell Cinderella's story from the point of view of the step-sister (in A Wish Made of Glass there's just one step-sister). I think it was from the moment I decided to write it from that angle that I began really getting interested in writing this story. I thought "Oh, a deeply flawed person! Now that's a point of view I can write from!"
Where does your story veer off from a more traditional telling of Cinderella and why did you choose to go that direction?
It veers off in a lot of ways. Though I'm calling my story a Cinderella retelling, I don't like to compare it too much. It is so loosely based on the original that some readers may end up being disappointed. I hope not – but they might! Especially if they are looking for a singing-mice-feel-good type of story! My story is darker than the original Cinderella, certainly. My main character, being a step-sister and in whose character I tried to delve more deeply, is very troubled and angry and hurt. In some ways it's very sad story. I chose to go that direction because, basically, those are the types of stories I like to read. There's nothing I enjoy more than watching, and connecting with, characters who have depth. Characters who have deep issues, but must grow in a very real and sometimes even painful way in order to overcome those issues.
What is one symbol (like the fairy godmother, pumpkin coach, glass slipper, etc.) that you used in your story, and how did you use it?
As you can probably guess from the title, I do use the glass slippers in my story. Every fey creature (the fey folk are a different type of creature than humans) wears slippers made of glass – even the males have glass soles on their boots. Isidore's (the main character) mother tells her a story of how the fey folk keep their hearts within their shoes, so that every step they take they are reminded of how fragile and precious their hearts are. This symbolism continues throughout the story in regard to the glass slippers . . . although it ends in a way that ended up surprising even me.
What factors led you to self-publish this one after going on a more traditional route for your debut?
Impatience 🙂 I do plan on having my agent submit future work to traditional publishers, but for this book (especially with its being a novella), I just wanted to get something else out there for my readers. I've always heard that an author who has just one book out isn't going to get as much attention as an author with multiple books. I've had this story sitting on my computer for the past two years, and I had an author friend who had read it contact me and say, "Hey, have you thought about self-publishing that novella? You really should while you're writing your bigger books." So I went in and did some pretty heavy revising to the story, then hired a professional editor to make sure it was as polished as it could be.
I also feel that in this market it's hard to find a traditional publisher. Things are really competitive and people are self-publishing more and more. Just because I've been traditionally published once is no guarantee that I will be again. If that's how it ends up, I'm perfectly happy with that. And I thought that if there was a chance I might indie publish someday, doing a smaller project like this novella would be a good way to get my feet wet and learn the ropes.
To learn more about Ashlee and her books:
Twitter: Ashlee Willis
Website: Finding the True Fairy Tale
Goodreads: A Wish Made of Glass