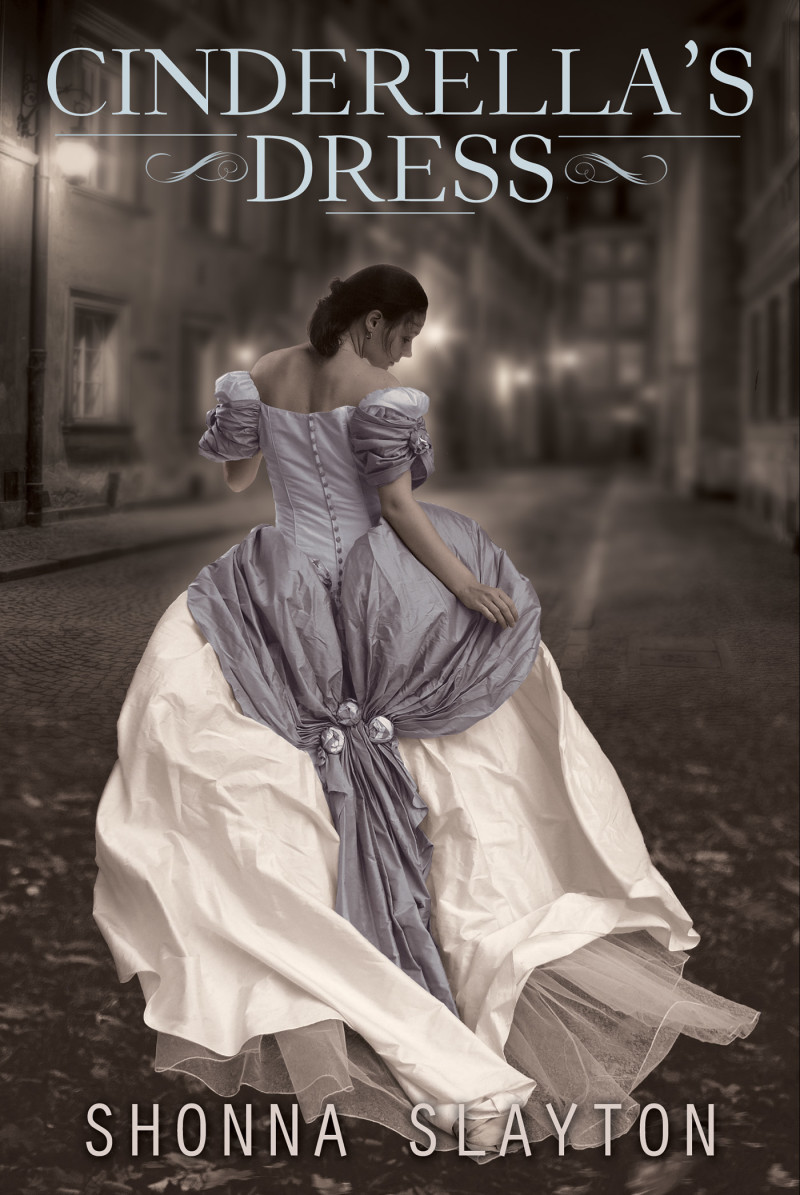 Being a teen-ager during World War II is tough. Finding out you're the next keeper of the real Cinderella's dress is even tougher.

Kate simply wants to create window displays at the department store where she's working, trying to help out with the war effort. But when long-lost relatives from Poland arrive with a steamer trunk they claim holds the Cinderella's dress, life gets complicated.

Now, with a father missing in action, her new sweetheart shipped off to boot camp, and her great aunt losing her wits, Kate has to unravel the mystery before it's too late.

After all, the descendants of the wicked stepsisters will stop at nothing to get what they think they deserve.
About the Book
Please note: There are two editions of Cinderella's Dress. One is out of print; one is happily in print. Look for ISBN 978-1682810231
Here's what people are saying:
I think the first thing that needs to be said about this book that it's NOT a fairytale retelling. It takes the magic of one of our favourite stories, picking out aspects and used it to tell an entirely different tale that is, all in all, charming and captivating. It's a slow paced book that lets you saunter through it's pages as you take in the intelligent and, quite frankly, adorable characters and plot lines…..Cinderella's Dress was like a stroll through the 1940's with a magical twist and a sprinkling of fashion. Highly recommend for all in need of a happily ever after. —The YA's Nightstand.
"I have to say going into this book blind really made for a great reading experience. Other than the usual happy endings and other classic tropes, there wasn't too much about this book that was predictable. I found myself (figuratively) on the edge of my seat as I read what happened next. The book is a bit faster paced towards the end which made for some very interesting twists and other unpredictable moments….I wouldn't call this a fairy-tale retelling however, in fact I'm not sure what to call it. How about Fairy-Tale inspired Historical Fiction with Magical Realism. It rolls right off the tongue!" –Zack's YA Reviews
"The book was not what I expected, but it was still amazing and I must say that I loved it….The setting of this story is what I loved the most about it. Which is something I'm not used to, since I usually care about the characters way more, but the setting really got me thinking. Usually when you think about WWII you think about the battles and all the men fighting, but this book gives you the insight of what the women who stayed in the country went through.The author did such a wonderful job with this, I definitely give her props for being so detailed and unique with it. Also this probably sounds bad, but I find the idea of war kind of romantic, seeing Kate write letters to Johnny and her brother definitely hit my soft spot. Honestly, hand written letters are so adorable and they just express how much you love someone, way better than texting!…I definitely encourage you to pick up a copy, especially if you love Historical Fiction because this book has a brilliant setting that's going to make you want to go back in time. And if you're Polish, pick it up too, its a pretty great read. – Angelic Book Reviews
"I was surprised by this book. I was expecting a story based solely on Cinderella but this book isn't. Kate works, goes to school and grow up in this book. The author does a great job describing what women surely went through in this time period. Men are sent off to war and women step up to take care of their families by working. They worry over their loved ones sent away. I like the addition to the letters in this story. It lets you see the characters much better. I was fascinated by Cinderella's dress. It is a little mystery you try to figure out whether it is real or just a story. I like getting to know more as Kate does. She makes mistakes in the book but she isn't afraid to make them right even if she is in danger. This is a great book if you enjoy reading about different times and letting your imagination run wild. What if Cinderella was real? I like the author's take on this and look forward to more books by her." – Racing to Read
Imagine if the story of Cinderella might in fact be true. That's what you'll discover in the very imaginative CINDERELLA'S DRESS which is the PERFECT fantasy set in WW2 with a girl, a magical dress, and much more!…A fun, twist on the classic Cinderella tale that is sure to appeal to fans of lighter fantasies. Be prepared to be swept away!  —Si,Se Puede- Yes You Can!
Cinderella's Dress is not at all what you'd expect when thinking of a Cinderella retelling. The reconfiguration of the fairy tale is unexpected and while it does have a close link to the original story is different enough to make it refreshing and surprising. – Young Adult Book Madness
"I'm not much of a historical fiction reader. But when I saw this unique twist on the fairy tale aspect, I knew I had to read it. And I loved it…. As I said , I'm not one for historical fiction, especially the WWII era. But I did love the setting of this one, and how it was accurately portrayed. I also loved the setting of the department store, and how window decorating was such a big part of the story. It gave more life to the 40's, something we don't often hear about….In short, this was a highly enjoyable read that historical fiction lovers will like, and even non-historical fiction lovers, like me, can enjoy. The fairy tale aspect is uniquely done and well-handled, and the ending will leaving you happy and satisfied." – The NerdHerd Reads
Things that make readers go…um, what?
Please note: There is a mix-up of names on p.51 of the first-run print copy. If you noticed this and were wondering: Kopciuszek, the polish name for Cinderella, was meant to go there instead of "Cinderella." Oh the difference one word makes! (This has been fixed in the second printing. Whew.)
Other Books in "Cinderella's Dress"