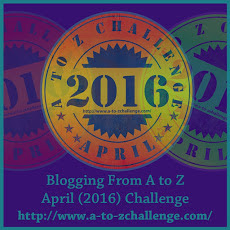 This was my third year blogging A to Z.
Year 1: Learned about the challenge a few days before it started and thought it would be fun. I blogged each day with no real plan other than to make it to the end. My theme was random.
Year 2: From my first year, I'd learned about themes and planning ahead! So the second year I picked the 1940s, and in many ways it made the challenge much easier to do. I hadn't decided all the letters by the time the challenge began, but it was close. I think I was still blogging every day (usually posting late that night for the next day's post.) I learned to compile all the blogs in one place (on my top menu) to make it easier for people to browse through the letters, and I learned about including a signature with your link.
Year 3: This year. I went with a theme again, this time the race around the world in the 1800s between Nellie Bly and Elizabeth Bisland. I wrote the first few week's posts early, doing my planning in Scrivener software. This allowed me to spend those early days visiting other blogs instead of writing my own posts. I took advantage of that extra time and visited extra blogs, knowing that later in the month I'd be busy (2nd pass edits on SPINDLE, a sleeping beauty tale) and not able to keep up with the visits as much. I was excited to come across a blog I'd been to last year–I thought there would be more, but the list was huge this year! It was also fun to come across a friend I know in real life 🙂  Oh, and I picked up a delicious-looking recipe along the way.
Also this year, I had a guest blogger! Rosemary J. Brown, a fellow Nellie Bly enthusiast who actually took the trip around the world just as Nellie did (minus the steamships), popped in for L, V and W. That was fun.
So there you go. Another challenge complete. Once I'm finished with my editing, I'll have more time to go back and visit some more to see what else people were blogging about. Big thanks to the organizers for continuing to offer this challenge!
I didn't think to do a giveaway until it was almost too late. I think Year 2 I was much more organized than this year! So here is my Goodreads giveaway if you are interested: